Freshly Picked Blueberry Juice
Soft Drink "Tsumitate Blueberry"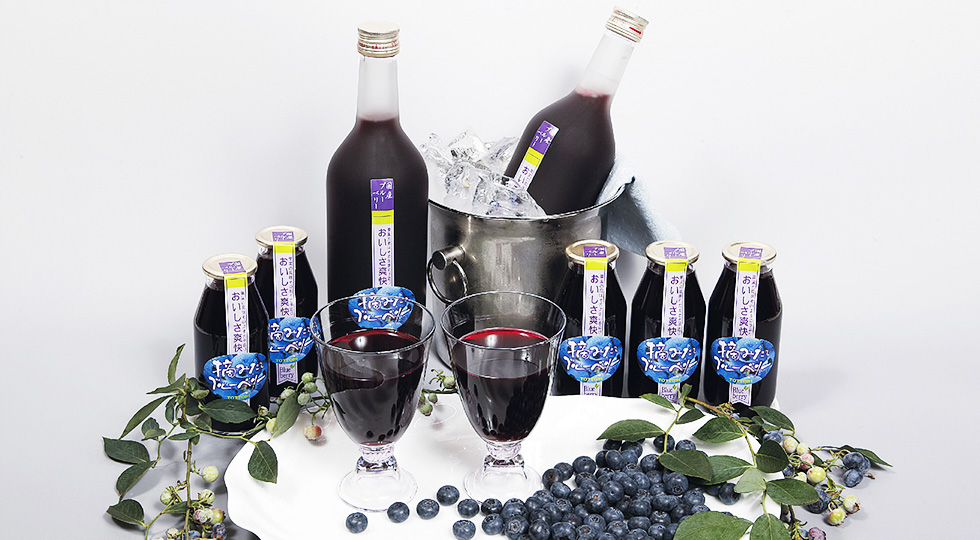 Delicious and Refreshing!
Homemade Drinks with Fresh Picked Flavor
We now sell blueberry drinks with honey.

We've hand-crafted this refreshing blueberry drink using the extract of carefully cultivated, homegrown blueberries picked carefully one at a time, and added honey.

Refrigerate before serving and enjoy it straight!
Quantity
720mL or 180mL
Storage Method
Store at room temperature out of direct sunlight.
How to Serve
Chill and drink as-is. It mixes well with dairy, so you can also enjoy it mixed with milk or yogurt.
A handcrafted drink full of wholesome blueberry extract, with a crisp sweetness and a rich fruity flavor.

Full of wholesome blueberry extract
Crisp sweetness
Handcrafted drink with rich fruity flavor

The Logo of our Fresh Berry Farm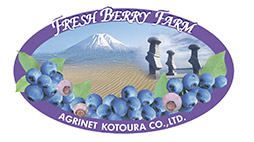 Our logo is designed to depict the image of our farm's location. In the background of our blueberries, we have arranged Mt. Daisen and the Tottori Sand Dunes, which are the foremost landmarks of Tottori Prefecture, the Nami Shigure Sandogasa Monument in Kiku Port in Kotoura, and the Sea of Japan. (The Kiku Port is known for having flourished as a port of call for large cargo ships during the Edo period.)
Testimonials
The flavor was very rich, but it had a smooth, refreshing sweetness as well.
My daughter loved the beautiful purple color when she put milk in it. She drank it right down!
The sweetness of the honey was gentle and I want to drink it no matter how tired I am.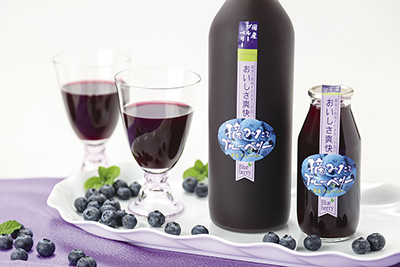 Blueberry drink with honey
Freshly Picked Blueberries
Blueberries can be harvested for a period of around 2-3 months per year. But we want everyone to be able to enjoy blueberries year-round, so we have planned and developed a variety of products using blueberries to bring to you! We put our producers' affection towards the fruit and meticulousness, as well as the enthusiasm of our customers into each product we develop.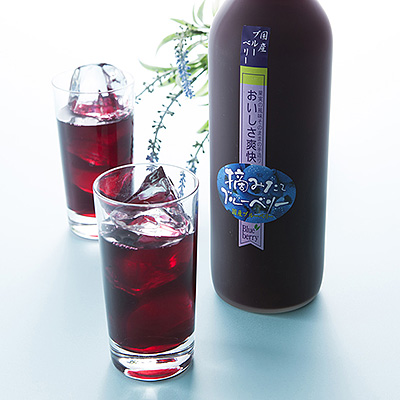 With great care towards the natural flavor of the fruit
And meticulous attention to ingredients and processing
We use only delicious, domestically grown blueberries.
We treasure the natural flavor of the fruit.
We never add unnecessary additives.
We use domestically grown blueberries that have received special cultivation approval to make the extract we use as an ingredient. Berries are suitably cared for day by day, then the ripened berries on the bush are carefully picked one by one. Then, we make the extract by boiling selected fruit in water, add honey and citric acid derived from sweet potatoes or tapioca, and create the finished drink with its refreshing flavor. We don't use chemical sweeteners, flavorings, or preservatives.
Blueberries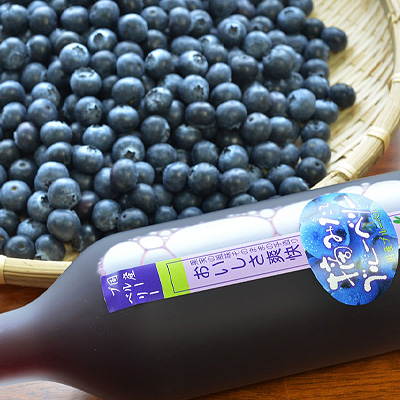 The blueberry is a fruiting shrub in the heath family (Ericaceae). The dark, ripened fruit are a deep purple-indigo color and contain anthocyanin pigments. The fruit have tiny seeds and no puts, and they can be eaten whole without peeling the skin.
Also known as the jewel of the forest, uncooked blueberries contain the following nutrients.

Values per 100g of uncooked blueberries (Food Composition Table, 5th Rev.)
energy
49kcal
potassium
70mg
Carotene(vitamin A)
55µg
protein
0.5g
calcium
8mg
Vitamin C
9mg
Lipid
0.1g
magnesium
5mg
Vitamin E
1.7mg
carbohydrate
12.9g
Rin
9mg
Vitamin B1
0.03mg
sodium
1mg
iron
0.2mg
Vitamin B2
0.03mg
zinc
0.1mg
Vitamin B6
0.05mg
manganese
0.26mg
Folic acid
12µg
honey
This gentle and refined sweetness, brought to you directly from nature, offers a relaxed feeling. Honey is composed primarily of glucose and fructose. It is absorbed in the gut and provides the body with energy.
Soft Drink
Freshly Picked Blueberries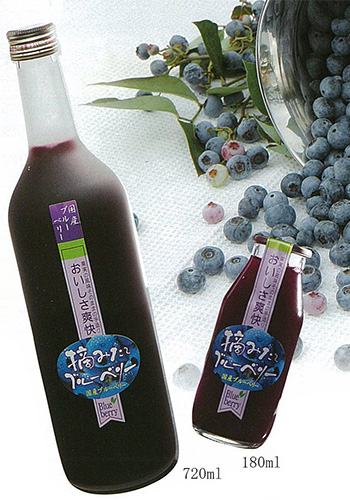 The nutritional information is as described below.
If you're concerned about your calorie intake, please feel free to consult this data and enjoy responsibly.
| Nutrient | per 100 mL | per 180 mL | per 720 mL |
| --- | --- | --- | --- |
| energy | 64kcal | 115.2kcal | 460.8kcal |
| protein | 0g | 0g | 0g |
| Lipid | 0g | 0g | 0g |
| carbohydrate | 15.9g | 28.6g | 114.5g |
| sodium | 0g | 0g | 0g |
| Anthocyanin | 10mg | 18mg | 72mg |
Testing conducted by : Japan Food Research Laboratories
Test Results Date of Issue : January 13, 2011
Test Result Document No.10113280001-02

How to enjoy it best
You can enjoy it chilled without adding anything.
It also mixes well with dairy products, so you can mix it with milk, yogurt, ice cream, or others for a tasty combination.
You can also enjoy it as a mixer with shochu, a Japanese distilled liquor.